Jun 18, 2012
Comments Off

on Fulton's Tax Commissioner Runs Taut Department
Manager
North Fulton Online Article
April 10, 2002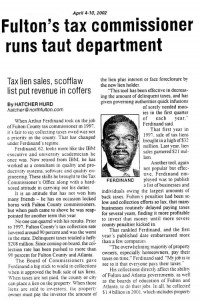 – When Arthur Ferdinand took on the job of Fulton County tax commissioner in 1997, it's fair to say collecting taxes owed was not a priority in the county.  That has changed under Ferdinand's regime.  Ferdinand, 62, looks more like the IBM executive and university academician he once was.  Now retired from IBM, he has worked as a consultant in quality and productivity systems, software and quality engineering.  These skills he brought to the Tax Commissioner's Office along with a hard-nosed attitude in carrying out his duties.
It is an attitude that has not won him many friends – he has on occasion locked horns with Fulton County commissioners, but when push came to shove he was reappointed for another term this year.
No one can quarrel with his results.  Prior to 1997, Fulton County's tax collection rate hovered around 90 percent and was the worst in the state.  Delinquent taxes totaled a hefty $208 million.  Since coming on board, the collection rate has been pushed to more than 99 percent for Fulton County and Atlanta.