Jun 18, 2012
Comments Off

on Fulton County Tag Renewal Goes Online
Manager
Article from the Northside Neighbor
December 19, 2001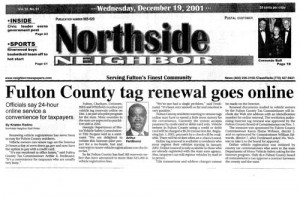 – Renewing vehicle registrations has never been so easy for Fulton County residents. Vehicle owners can renew tags on the Internet 24 hours a day at www.dmvs.ga.gov and now have the option to pay with a credit card.
"It's not restricted to office hours," said Fulton County Tax Commissioner Arthur E. Ferdinand. "It's a convenience for taxpayers who are usually very busy."
Fulton, Chatham, Gwinnett, Bibb and Whitfield counties put vehicle tag renewals online on Dec. l as part of a pilot program for the state. More counties in the state are expected to follow suit in 2002.  Georgia Department of motor Vehicle Safety Commissioner Tim Burgess said in a statement "We are delighted to initiate this Internet pilot project for a no-hassle, fast and easy way to renew vehicle registrations over the Internet."  So far Fulton County has had 183 renewals online that have amounted to more than $45,000 in vehicle registration fees.
"We've not had a single problem," said Ferdinand. "It's been very smooth so far and reaction is very positive."
Fulton County residents wanting to renew tags online may have to spend a little more money for the convenience. Currently the system accepts payment by credit card or debit card only. Vehicle owners in Fulton County using a credit or debit card will be charged a $6.20 transaction fee. Beginning Jan. 1,2002, payment by e-check will be available. There will be no fees when an e-check is used.  Online tag renewal is available to residents who must register their vehicles starting in January 2002.  Online renewal is only available to those who are already registered with the state auto agency.  Also, taxpayers can still register vehicles by mail or in person.  Title transactions and address changes cannot be made on the internet.
Renewal documents mailed to vehicle owners by the Fulton County Tax Commissioner will include the Web site address with an identification number for online renewal.  The resolution authorizing Internet tag renewal was approved by the Fulton County Board of Commissioners on Nov. 7.  The measure was sponsored by Fulton County Commissioner Karen Elaine Webster, district 2, and co-sponsored by Commissioner William Edwards, district 7, after Ferdinand asked Ms. Webster to take it to the board for approval.
Online vehicle registration was initiated by county tax commissioners who went to the state Department of Motor Vehicle Safety asking for the Internet program.  Only the Fulton County board of commissioners can approve a contract between the county and the state.