Jun 18, 2012
Comments Off

on Ferdinand Offers Support of Board Action on Tax Lien Sales
Manager
The Northside Neighbor
March 27, 2002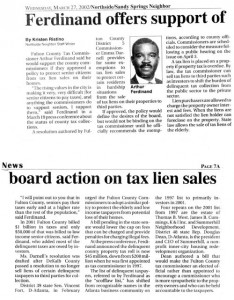 – Fulton County Tax Commissioner Arthur Ferdinand said he would support the county commissioners if they approved a policy to protect senior citizens from tax lien sales on their homes.
"The rising values in the city is making it very, very difficult for senior citizens to pay taxes and anything the commissioners do to support seniors, I support them," said Ferdinand in a March 19 press conference about the status of county tax collections.
A resolution authored by Fulton County District 5 Commissioner Emma Darnell provides for some exemption to tax lien sales to protect certain residents in hardship situations from the sale of tax liens on their properties to third parties.
If approved, the policy would define the desires of the board, but would not be binding on the tax commissioner until he officially recommends the exemptions, according to county officials. Commissioners are scheduled to consider the measure following a public hearing on the issue on April 3.