Home
»
Taxline Newsletters (pdf)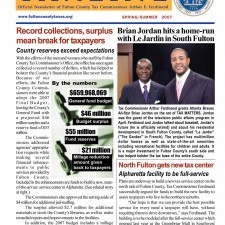 Jun 20, 2012
Comments Off

on Taxline Newsletter Summer 2007
Manager
A few of the headlines for this issue: Record collections, surplus mean break for taxpayers With the efforts of the men and women who staff the Fulton County Tax Commissioner's Office, the office has once again collected a record number of dollars, which has helped to bolster the County's financial position like never before. Because of our ...
Continue Reading
News and Editorials

Voter Information

Tax Matters With Arthur Ferdinand

Dr. Ferdinand is available to speak to your group, school or church

The Tax Commissioner routinely addresses taxpayers and future taxpayers at schools, neighborhood associations, senior centers, civic, business, professional and social clubs, and the Citizen's University of Fulton County.

If you wish to have him address your group, please provide the needed information to schedule an appearance. Please make request at least two weeks in advance.

Share Our Website

CLICK HERE

to email this website link to a friend, taxpayer or voter.