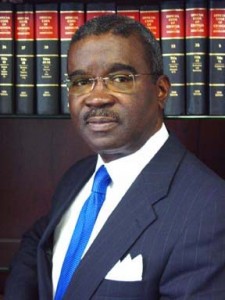 Arthur E. Ferdinand is a former IBM executive with 25 years experience in advanced technology, product development, and business operations. Trained extensively in IBM management, he retired from IBM as Director of New Account Development.  He earned a B.Sc. degree in Mathematics with First Class Honors and a Ph.D. in Mathematical Physics from London University, England. Post-Doctoral study was performed at Cornell University.
As a Presidential Interchange Executive to the federal government in the Department of Transportation, Commissioner Ferdinand worked on long-term strategic transportation issues. He has published numerous scientific papers in leading scientific journals. In 1993 Van Nostrand Reinhold published his groundbreaking book titled Systems, Software, and Quality Engineering: Applying Defect Behavior Theory to Programming.
After leaving IBM in 1993, Commissioner Ferdinand founded Productivity and Quality Incorporated, a consulting and research firm for subjects relating to organization behavior, quality, productivity, and software engineering. A book titled The Economics & Science of Contemporary Management is to be published.
On January 1, 1997, Dr. Ferdinand was appointed Tax Commissioner of Fulton County. The Tax Commissioner is a constitutional officer with fiduciary responsibilities to Fulton County Government, Fulton County Schools, Atlanta Public Schools, State of Georgia and ten other municipalities within Fulton County. When Dr. Ferdinand became Tax Commissioner, his immediate goal was to reduce the significant delinquent tax roll, totaling $208 million owed to the governing authorities. Through rigorous planning and goal setting Commissioner Ferdinand reduced current collectible delinquent taxes to $9 million by the end of 2003.
By 2000, Commissioner Ferdinand had improved the office collection rate from the lowest in the state at 90 percent to the highest at 99 percent. He is Fulton County's first Tax Commissioner to collect 99% of the tax digest by December 31, within the budgeted year, and has maintained a 99 percent collection rate since 2000.
By meeting with, listening to and responding to community concerns, since 1997, Commissioner Ferdinand has:
Lowered individual taxpayers share of the tax burden by improving overall collection rate by nine percent.

Opened tag sales centers and tax collection offices in neighborhoods.

 Established tax payment programs for the elderly.

Introduced the bank tax escrow account for any taxpayer without a mortgage escrow account.

Employed job enrichment training to increase technology and customer service skills.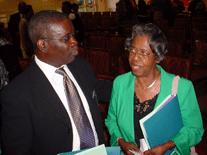 Technology, community outreach and service, and employee education have been his focal points since taking office. Today, far more County citizens are informed about property taxes and how the tax system works. Tax office employees participate in ongoing training in technology, job enrichment and customer service, and most aspects of collecting and reporting of taxes are now automated. The total annual revenue collections, for the tax office, now exceed $2 billion.
Active in the community, Commissioner Ferdinand has served on the board of the Highpoint Civic Association of Sandy Springs and represented the community on zoning issues.  As a music lover, he was drawn to the Atlanta Symphony Orchestra's Talent Development Program where he served as a founding member and co-chair of its education committee in establishing the program to train minority youths in classical music.  On the job, Commissioner Ferdinand has twice served as chairman of United Way campaign drives. He has served as first vice chair of the Tax Commissioner Technology Association and past president of the Georgia Association of Tax Officials of Metropolitan Atlanta.
He met his wife of more than 40 years while at Cornell University and has an adult son and daughter.