Jun 21, 2012
Comments Off

on 2012 General Assembly Comes To A Close
Manager
Session ends with tag birthday tax killed, Ferdinand called for tax cut.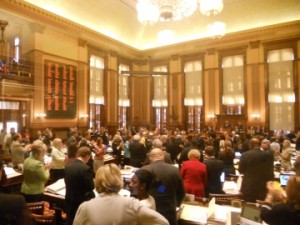 Since 2006, Tax Commissioner Arthur Ferdinand has been urging lawmakers to eliminate or reduce to a nominal fee, the so-called "birthday" tax you pay to renew your auto tags each year. The state's car tax is unpopular, even as taxes go and this is not lost on state lawmakers. After years of trying, the Legislature finally killed it, in stages, as part of a widely supported tax bill that now awaits Gov. Nathan Deal's signature.
Pending Deal's approval, people buying cars after March 1, 2013, will no longer face paying an annual tax. Instead, vehicle buyers will pay a one-time fee up front, beginning at 6.5 percent in 2013 and topping out at 7 percent in 2015. The fee takes the place of both the sales tax, which is paid at the time of purchase, and the annual ad valorem tax.
More information about this can be seen in this article by the AJC online. Click Here